Our PCI universal PC card readers/bridges below will simplify your life in data transfer between your palmtops, cameras, laptops, desktops and other data collection devices.

These readers support not only storage cards (ATA flash, PCMCIA hard drive, linear flash*, SRAM*, compact flash**, smartmedia**, microdrive**, memory stick**, Multimedia (MMC)**, etc.) as well as other non-storage cards ( ethernet, modem, wireless LAN, wireless modem, SCSI, serial I/O, PCMCIA-to-IDE, etc.).

* Linear flash & SRAM cards may need third-party software to work under Win NT and 2000. Please see note at http://www.psism.com/sram.htm
** Need PCMCIA adapter.

PCI BUS 2 REAR
ACCESS SLOTS CARDBUS CARD DRIVE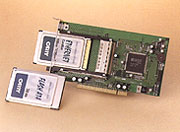 Model PCD-TP-202CS: uses TI 1420PDV chipset (in stock)

Model PCD-RP-202CS: uses Ricoh R5C476II chipset (currently No stock, special order),
Single-slot PCD-RP-101CS in stock


The PCD202CS (or PCD-RP-202CS) and PCD-TP-202CS PCMCIA Card Drives are your most economical solutions to add PCMCIA functionalities to the desktop PCs. The Interface Card is an AT PCI card which adds two PCMCIA sockets on the rear of the computer. These PCMCIA Card Drives provide a rear-access PC Card socket solution for the desktop users. They support one Type III PC Card or two Type I or II PC Cards.
Note:
1. This model supports 16 and 32-bit PCMCIA cards.
2. You do not need a driver for for this PCI-based PC card readers/writers under Windows XP. Let Win XP to find these readers and install native driver automatically.
3. If you use a 32-bit Cardbus card, Win 98SE may not be automatically detect it. You need to go to control panel to "Add Hardware", the, the card will be detected.
4. If you use Compaq Deskpro EN, EN (SFF) and EN (SFF-v) Series computers or Dell Dimension 4100 and other PCs using Intel 815 chipset motherboard, BOIS upgrade may be needed in order to avoid hardware conflicts.

5. We do not guarantee this reader/writer will work under UNIX or Linux system and we can not provide tech support.
* In order to make it work, your Linux version must contain one of the following Card Services files:
1. pcmcia-cs-3.3.8, or
2. pcmcia-cs-3.0.14

Make sure your Linux also has the needed driver, which we do not provide, for the PC card you want to use!!!!
6. Note: For customers who use PCMCIA wireless cards:
Most of the wireless cards on the market now are 32-bit cardbus cards so you have to use a PCI-based internal 32-bit PC card reader like PCD202CS, PCD101CS, PCD110CS, P222, P111, etc. listed here. If you are sure your card is a 16-bit one, you can also use the 16-bit front-mount readers like P423.
PSI does not guarantee the above PCI-based PC card read-writers will 100% work for your Verizon or Sierra Aircards or Kyocera or Novatel, or Qualcomm, etc. wireless cards. The failure is due to a complex combination of your PC hardware, it's BOIS, your O/S setup and your wireless modem driver. Windows 98, ME & XP normally has fewer problems than Windows 2000.

Features:
Two rear-access sockets support both 32-bit CardBus PC Cards and 16-bit PC Cards, 3.3V, 5V & 12V

Complies with PCI Local Bus Specification 2.1

Complies with PCMCIA PC Card 95 / CardBus standard specification

Supports Type I, Type II, Type III PC card sockets

Supports all kinds of PC Card HOT-SWAPPING feature (except Win NT)

Win NT does not support hot-swapping. You may need CardWare drivers for Win NT to make PC cards hot-swappable.

Active LED indication of busy

No need for any ISA IRQ Board

Supports Windows 95, 98, 98SE, 2000, XP & Linux *(see note above). Do not need driver when installed under Win XP. Windows NT driver is optional.

Supports ATA Flash Card, CF Card w/ CF Adapter, SM w/ SM Adapter, IBM Microdrive, type III Hard Drive, Sony Memory Stick +Stick Adapter, Linear Flash Cards (AMD, Intel II & II+, etc. chipsets), SRAM Card, Fax Modem Card, LAN Card, Wireless LAN card, I/O card, Cardbus card, etc.

PCI interface card dimension: 6"x3.5"

Max. Power Supply on sockets:
VCC at 3.3V for 1A
VCC at 5.0V for 1A
VPP at 5.0V for 250mA
VPP at 12V for 250mA

1 year warranty
PRICE. Please click here for updated price.

WARRANTY & SUPPORT. Tech support from manufacturer and PSI. 1 year warranty. For tech support and/or RMA, please go to http://www.psism.com/support.htm.

TO ORDER OR INQUIRE. Please click here to place an online order or send e-mail inquiry to sales@psism.com or call 1(301) 572-2168. We accept Visa, MasterCard, Discover and American Express as well as government and university POs. International orders may be conditionally accepted. Please click here to order or view our ordering information page.
---
| New Products | PCMCIA Cards / Readers | Industrial / Rugged Memory Products | SRAM & Linear Flash |
| Embedded Memory | Consumer Electronics | Tronlink Products |


Copyrightę 1995 ~ 2016
PSISM, LLC , dba PSI ( formerly Primary Simulation, Inc. )
2963 Mozart Drive, Silver Spring, MD 20904 U.S.A.
Tel:(301) 572-2168, Fax: (301) 847-0739
10:00AM ~ 6:00PM U.S. Eastern Time
Email: sales@psism.com