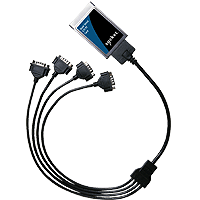 Model - SL0751-161 Vendor- Quatech/Socket Communication
PCMCIA Ruggedized Qual Serial I/O PC Card
Features
PCMCIA Quad Serial I/O Card- Ruggedized Quad Serial I/O Card makes it easy to add four high-speed serial COM
ports to your Handheld PC Pro or notebook computer. Each port operates independently and can link to an external modem, label printer, bar code scanner, magnetic stripe reader, GPS receiver, digital camera, or other RS-232 serial device. It's ideal for applications that need mobile data collection from multiple sources.
A fully integrated fixed cable maintains solid contact in high vibration situations, such as when the card is used with a PC
mounted in an all-terrain vehicle. A molded strain reflief protects against lateral stress and seals out dust and moisture. A sonic
welded case adds rigidity to resist torque that could otherwise crack circuit borad traces.
Socket's High-Integration Serial (HIS) chip reduces chip count to improve reliability and reduce power consumption. The Quad Serial I/O card uses less than 5 mA in standby mode, compared to over 100 mA for some single-port serial PC cards.
Four independently configurable 16550 type UARTs run simultaneously at up to 115.2 Kbps and act like Windows COM ports.
Works with Windows-based notebooks, Handheld PCs, Handheld PC Pros and pen tablets. A PC Card direct enabler for MS-DOS is also included.
Works in Type II or III PC Card (PCMCIA) slot.
Two RS-232 serial ports
IPlug-and-Play and hot swapping support with Windows 95/98/2000/Me and Windows CE. Uses only one interrupt line to control four ports.
Includes one non-removable, 24" cable that splits into four cables with industry standard male DB-9 connectors.
Ruggedized with non-removable serial cables, the Quad Serial I/O Card is designed to withstand stress from industrial or field environments.
Socket's Control Panel applet makes it easy to identify Windows COM port assignments.
Industry standard DB-9 connectors.
Specifications
INTERFACE/BUS-
16-bit PC Card (PCMCIA) Type II

CONNECTOR(s) -
(4) RS-232 9-pin D Shell Male
24" long cable.

ADDRESSES -
Port A: Any I/O address (including COM 1, 2, 3, 4)
Port B: 2F8 (COM 2), 3E8 (COM 3), 2E8 (COM 4).
Port C: Memory mapped at offset 0x780.
Port D: Memory mapped at offset 0x790.

PROGRAMMABLE -
Character Length: 5-, 6-, 7- or 8-bits
Parity : Even, odd or none.
Baud Rate : Up to 115.2 Kbps
UART Type : Oxford 16C950

O/S SUPPORT -
Includes drivers for Windows CE, 9x and MS-DOS. Drivers for
Windows NT available from Quatech/Socket. Additional drivers for
other operating systems may be available, contact Socket.

SOFTWARE -
Windows 95 (v950B or greater)/98/2000/Me: INF file and device driver. Windows CE: Setup program and device driver.
PC Card Direct Enabler for MS-DOS.

APPROVALS -
FCC A, CE, C-TICK

SIZE -
3.37" x 2.13" x 0.197" WT.- 1 ounce
Warranty
Limited Lifetime from manufacturer. Past Exchange-Call Socket 510-744-2720

PRICE. Please click here for updated price
WARRANTY & SUPPORT. Tech support from manufacturer and PSI. For tech support and/or RMA, please go to http://www.psism.com/support.htm.

TO ORDER OR INQUIRE. Please click here to place an online order or send e-mail inquiry to sales@psism.com or call (301) 572-2168. We accept Visa, MasterCard, Discover and American Express as well as government and university POs. International orders may be conditionally accepted. Please click here to order or view our ordering information page.
---
| New Products | PCMCIA Cards / Readers | Industrial / Rugged Memory Products | SRAM & Linear Flash |
| SATA & IDE Flash Drives | Industrial ATA & CF Cards | Embedded Memory | Tronlink Products |


Copyrightę 1995 ~ 2011 Primary Simulation, Inc. (PSI)
2963 Mozart Drive, Silver Spring, MD 20904 U.S.A.
Tel:(301) 572-2168, Fax: (301) 847-0739
10:00AM ~ 6:00PM U.S. Eastern Time
Email: sales@psism.com